Description
Emergency Medical Technician Blended Course
LEWISTON
Registration Opens: June 5, 2023
Start Date: August 30, 2023
End Date: December 20, 2023
Wednesdays 5:00pm to 9:00pm, United Training Center – 338 East Ave. Lewiston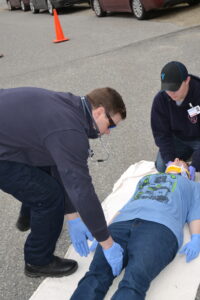 This is a fast-paced course, utilizing an online platform to enhance learning and classroom activities. This course will require a majority of your course work to be done online, on your own computer. There will be, face-to-face, in class sessions with your instructor to briefly review the content, and the majority of the class time will be spent learning the practical skills needed to be an EMT.
Students can expect to spend a minimum of 14-16 hours each week on the course doing the required reading and assignments.
Class will meet on the following Wednesday evenings from 5:00 pm to 9:00 pm:
August: 30
September: 6, 13, 20, 27
October: 4, 11, 18, 25
November: 1, 8, 15, 22, 29
December: 6, 13, 20
NREMT Practical testing fees are included in price of this course.  Written testing fees and Maine licensing fees are NOT included.
This course prepares students for the entrance level to work on an ambulance. The course covers Ambulance Operations, Airway Management, Patient Assessment, Medical Emergencies, Trauma Emergencies, Infants, Children and Operations.
Clinical rotations are an optional part of this course.  Student participating in clinical rotations will need to submit proof of immunizations.  Further information on immunization requirements will be provided in class.
All students attending this course must have a COVID vaccine.
Students who successfully complete this course are eligible to sit for the National Registry EMT licensure test.  United's Education Division is a Maine-EMS approved Training Center.
United Training Center does not issue college credit for this program.  College credit may be achieved through articulation agreements.  Please contact us for more information.
Preference given to incumbent Maine residents.
The $1500 cost of this course is being covered by grant money from the Community College System.  The only fee you will have to pay, is for NREMT testing upon completion of the course
Only one registration per applicant. Each applicant must submit their own application through utconline.net. Once your registration has been accepted, you will receive access to minimal information on our Learning Platform.
Within a month of the start date of the course, you will receive class specific information via email
If you have any questions or to schedule a visit, please call or email the United Training Center.
Refunds/Payments: Full refunds will only be issued in the event of course cancellation or prior to the "Official Start Date". Full payment must be received within two (2) weeks of the start of class.